Do you have an idea for a useful innovation in your classroom? Could $500 help bring your idea to life?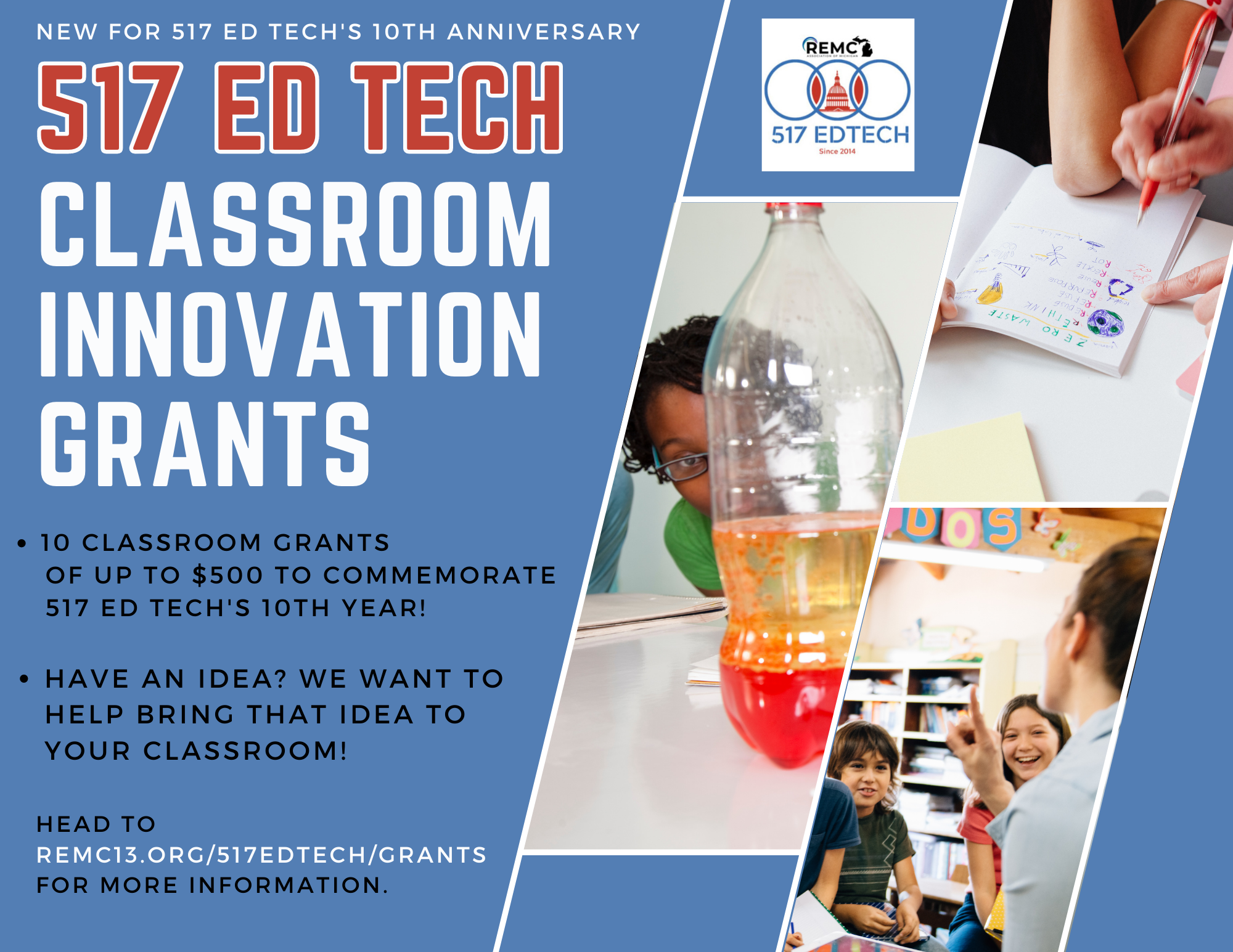 Introduction: In commemoration of 517 Ed Tech's 10th school year, supported financially by REMCSave, we are excited to announce that we are awarding ten (10) Classroom Innovation Grants of up to $500 for 517 Ed Tech educators!
Who is eligible to apply? Any educator in a REMC 13 district. (If you aren't sure if you're in a REMC 13 district, reach out to Andrew and ask. His contact information is listed below.)
What kind of ideas will we support? We are excited to support meaningful classroom innovation that will support improved teaching-and-learning in your classroom. Preference will be given to ideas that support larger groups of students (whole classes or multiple classes) and will benefit the learning of a range of subjects areas.
Who is funding this grant program? The funds to support the Classroom Innovation Grants does not come out of our annual REMC 13 budget. We are very thankful to REMCSave for providing the funds to support this grant program. These funds are possible because of the increased purchasing Michigan Schools are doing through REMCSave. (Remember, when you make your purchases through REMCSave (as opposed to heading to Amazon), you are almost certainly going to get a better price, and your purchasing provides the support for programs like these in our area as well as in other locations around the great state of Michigan.
When is the application window? We will be accepting applications from August 1st until September 30th.
I've got an idea. How do I apply for a grant? The grant application is a Google Form that will give you an opportunity to describe your idea in detail. At 8 am on August 1st, 2023, the Application Form will begin accepting submissions.
If you are awarded the grant, what's going to be expected you? We are hoping to have the awardees notified that they've been awarded a grant by November 1, 2023. In addition to rolling your idea in your classroom during the second half of the 2023-2024 school year, we are going to do a couple of visits to see your idea working and we'll ask that you tell your story (with all the successes and struggles) at a 517 Ed Tech gathering at some point in the future. We'll discuss the specifics of that with each individual winner, though, so there will be time to figure that out.
If you have any other questions: Reach out to Andrew Shauver at ashauver@inghamisd.org
Thank you to REMCSave for supporting the 517 Ed Tech Classroom Innovation Grants